Would you have lunch with Claudia the babysitter, Kermit the Frog, and Metamorpho? Sure, why not! (Above image: Aquaman—and friends?—drawn by Ramona Fradon.)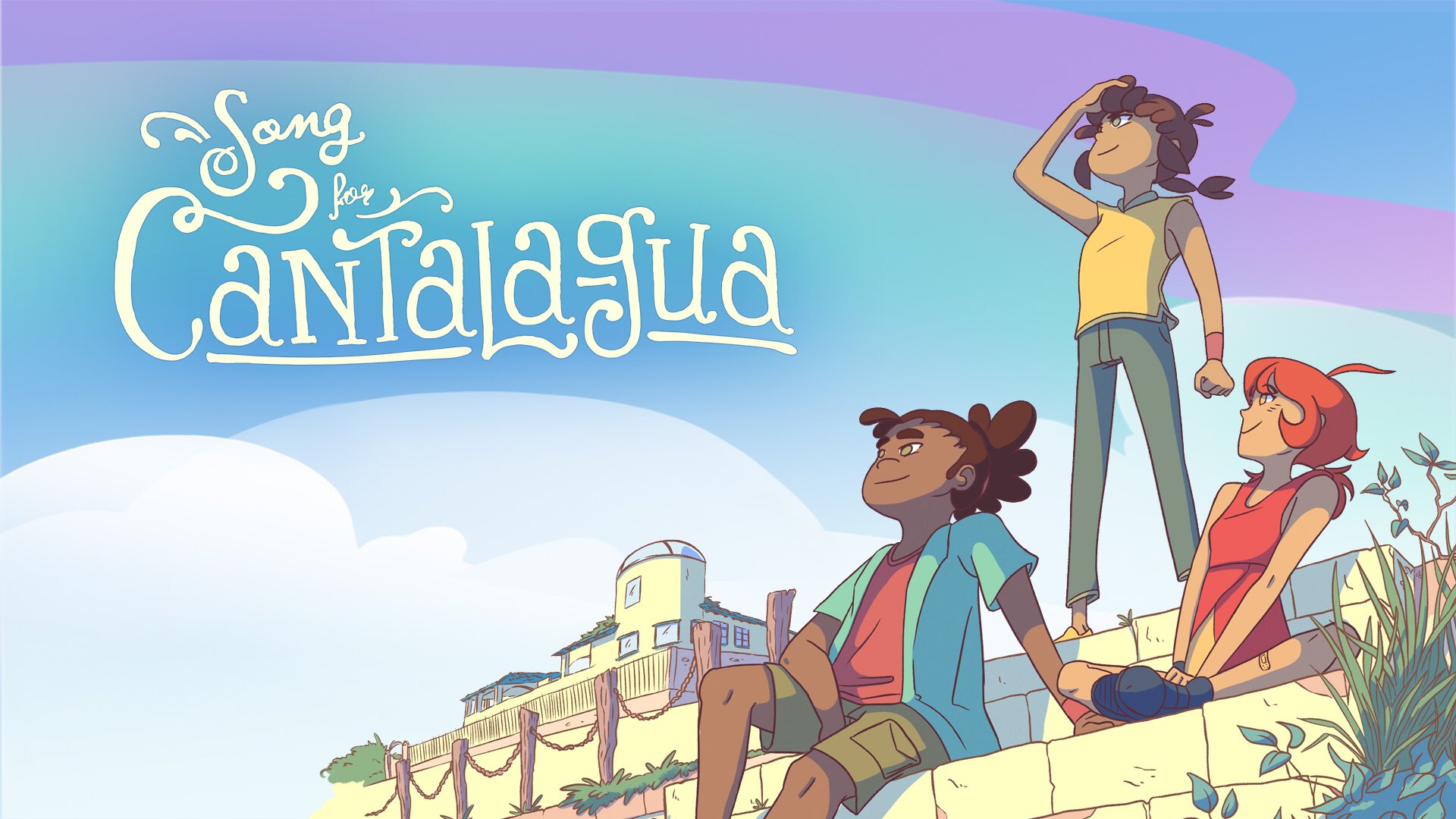 Song for Cantalagua, by Maria Izquierido, Antar Castro, and Paulo Esparza, takes place in the title town, an idyllic place "famous for its natural and cultural richness. Every year people from all around the world come to visit and enjoy the marvels of Cantalagua." But lately there have been signs that something's sour in Cantalagua—water levels are rising, and the fish population is decreasing—and one of the first people to notice is sensitive, helpful, 13-year-old Nila. Can Nila and her friends figure out what's gone wrong? Visit Song for Cantalagua's website to read the story (which is still unfolding) and find out about the creators and cast; also follow the Cantalagua Twitter account to see behind-the-scenes sketches of technology and architecture in the strip! (Thanks to Avery Kaplan for the link!)
Courtesy of The Comics Beat, we have a cover reveal and sneak peek for Claudia and the New Girl, the next graphic novel adaptation of Ann Martin's Baby-Sitters Club books! (Claudia and the New Girl won't hit bookstores and libraries until February 2021.) Martin's Baby-Sitter books—over 250 of them!—remain must-reads among young readers, and recently became a Netflix show. Claudia and the New Girl is adapted and drawn by Gabriela Epstein—after you've checked out the preview, bop over to Epstein's site and check out her comics, character designs, and storyboards.
Cartoonist Roger Langridge has a wacky but understated sense of humor that reflects his love of comedians like Buster Keaton and Spike Milligan. Langridge has written and drawn comics featuring characters you might be familiar with—including Popeye the Sailor Man, the Muppets, Thor the Thunder God, and Bill and Ted (of Excellent Adventure fame)—but he does original cartoons too, many of which are available at his website and appropriate for all readers. Here's a generous sampler of his gag strips featuring the Muppets (open images in a new window to make them bigger), and here's Langridge's playful, hilarious, ongoing biography of William McGonagall, the "worst poet in the history of the English language."
The Art Institute of Chicago has re-opened its doors (in a socially-distanced way, of course), but the excellent materials provided by the museum while they were closed for the pandemic remain available online. Of special note is the "Get Creative at Home" section of their website, which features art-making activities, suggestions for creative writing projects, coloring book pages based on famous paintings, and more. You and your child can also tour the Art Institute's holdings to see their amazing Impressionist collection (including Georges Seurat's A Sunday on La Grande Jatte [1884-6]) and such American highlights as Edward Hopper's Nighthawks (1942). Don't miss the El Greco exhibit!
Coming up in early October is the 94th birthday of comics pioneer Ramona Fradon, who graduated from the Parsons School of Art in New York City in 1950 and began working at D.C. comics at a time when it was rare for a woman to draw comic books. During this period, she became a fan favorite for her art on Aquaman in Adventure Comics, and with writer Robert Bernstein she co-created Aquaman's sidekick Aqualad in 1960. After a hiatus to have her daughter, Fradon returned to D.C. in 1963 and, with scripter Bob Haney, invented the endearingly silly Metamorpho, a superhero whose body parts can adopt the properties of chemicals and elements.
Fradon would take another break from 1965 to 1973 to raise her daughter, and then returned to comics to draw various titles and characters for both D.C. and Marvel comics: Superman, Plastic Man, Super Friends (an adaptation of a Saturday morning cartoon based on the Justice League of America), and even an issue of The Fantastic Four, Marvel's flagship title. In 1980, Fradon took over the art duties on the newspaper comic strip Brenda Starr, Reporter (created by Dale Messick) and drew Starr's exploits for fifteen years.
Although Fradon retired in 1995, she occasionally contributes art to comic books—particularly for playful "Mermaid Man" stories in Spongebob Squarepants comics—and does commissions for fans. Below is a small portfolio of Fradon's beautiful art.
This weekly blog post is written and compiled by Craig Fischer. To send along recommendations, ideas, and comments, contact Craig at craig_fschr@yahoo.com [.]