A current exhibition at the Norman Rockwell Museum is "Enchanted: A History of Fantasy Illustration," featuring dozens of artists, including Gustave Doré, Howard Pyle, Hannes Bok, Frank Frazetta, Terry and Rachel Dodson, Jeffrey Catherine Jones, Mike Mignola, and Charles Vess. (The above Game of Thrones-inspired image is by digital artist Anna Dittmann.) Earlier in June, the Museum held a virtual symposium on "Epic Adventures in Fantasy Illustration," focused on Rockwell's dabbling in fantasy subjects and on Frazetta's influence on fantasy art: both the Friday and Saturday sessions of that symposium are available to watch online. Another symposium, on mythology and fairy tales, is coming up in October!
What's Up Beanie? is a comic strip written and drawn by Alina Tysoe since May 2019. There are over 300 fun comics to read—many of which will be collected in a book in August—and they focus on "slice of life stories" taken from Tysoe's own "childhood, teenage angst, and socially awkward adulthood!" Tysoe shares her cringe-worthy memories, awkward conversations, and little hypocrisies with us, and we chuckle because we're sometimes contradictory and dorky too. You can read What's Up Beanie on Webtoon (go here to begin at the first episode) or on Tumblr (scroll down to the bottom for the earliest strips). And thanks to Deanna Destito and the Comics Beat site for the heads-up about Tysoe's strip.
Currently at the Art Institute of Chicago: an exhibition of over 20 portrait quilts by Bisa Butler, an artist inspired by photographs in family albums and collage art to make works that portray an expansive view of African-American history. Butler's methods are further revealed in several videos, including her interview with the Printbyprint group and her in-depth "In the Artist's Studio" chat with Demetri Broxton of the Museum of the African Diaspora. And you can see more of Butler's rainbow quilts on her Instagram, in an article in Juxtapoz magazine, and at her webpage at New York's Claire Oliver Gallery.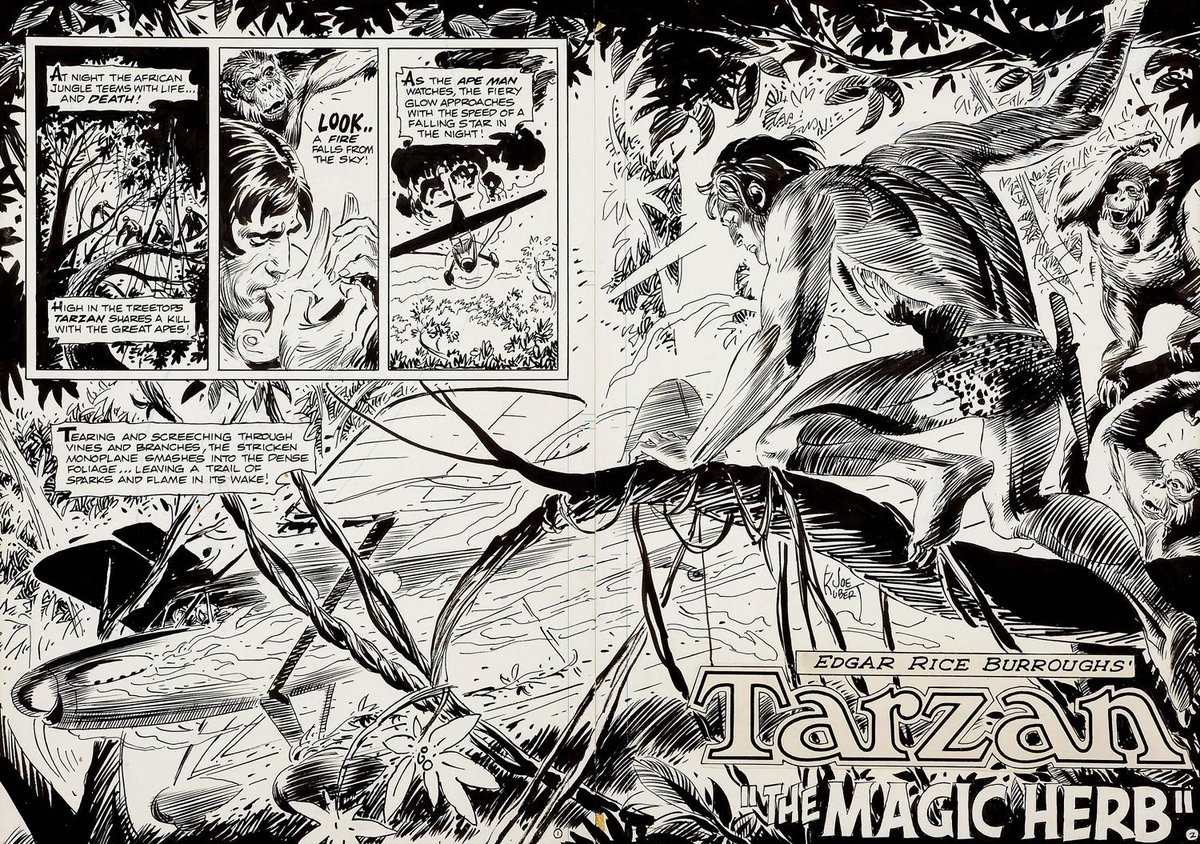 Time to play catch-up on some new YouTube videos. The Joe Kubert School of Cartoon and Graphic Art continues to post the earliest videos used by classic comic artist Joe Kubert in long-distance correspondence instruction: one now available is an in-depth session on inking. (Note Kubert's mastery with ink in the above Tarzan double-page splash, and don't forget to browse the School's other videos.) Since we covered her first presentation, Elsa Charretier has updated her channel every week with videos where she interviews creators (Amanda Connor, Ed Brubaker), answers viewers' questions, and breaks down movie and TV scenes into comic-book form. (Charretier sometimes discusses "mature" material, such as her breakdown of a violent scene in the film Reservoir Dogs [1992], so adults should watch a video first before sharing it with kids.) And we say goodbye to the Black Mountain / Believer Friday night cartooning sessions with a final hour with cartoonist and Believer magazine art director Kristen Radtke, who teaches us how to draw loneliness. (The lonely airport image below is the cover of Radtke's graphic novel Imagine Wanting Only This [2017].)
In 1959, the United States entered into a treaty with other powerful nations to preserve Antarctica and its unique ecosystem. The Treaty forbids mining, oil drilling, and any nation's military presence in Antarctica. Wildlife is protected, and no country can own Antarctica. At My Modern Met, Samantha Pires interviews educator and journalist Evan Townsend, the designer of "True South," a flag for Antarctica that reminds us to continue to nurture and protect the continent. (An image of the blue-and-white flag is above.) As Townsend notes on True South's website, "Horizontal stripes of navy and white represent the long days and nights at Antarctica's extreme latitude. In the center, a lone white peak erupts from a field of snow and ice, echoing those of the bergs, mountains, and pressure ridges that define the Antarctic horizon. The long shadow it casts forms the shape of a compass arrow pointed south. Together, the two center shapes create a diamond, symbolizing the hope that Antarctica will continue to be a center of peace, discovery, and cooperation for generations to come."
Michael Dalton Allred—sometimes nicknamed "Doc" because of his first two initials—has been making comics for over three decades. He's heavily influenced by the Pop Art and pop culture figures of the 1960s, with a bright, colorful, style that captures the ebullience of super-heroics, whether those heroes be ones he created (Madman, It Girl, the Atomics, X-Ray Robot) or the many he's drawn for Marvel and DC Comics (Metamorpho, Batman, the Fantastic Four, the Silver Surfer, and more). His love of rock music is also reflected in his cartooning, both in his fictional graphic novel Red Rocket 7 (1998) and his book-length biography of David Bowie (2020, and co-written with Steve Horton). For a definitive interview with Allred, listen to episodes 63 and 64 of Geoff Grogan's Blockhead podcast; and though I've included some Allred images below, you owe yourself a visit to his Instagram too. (And a shout-out to Allred's collaborators: his wife Laura is an award-winning colorist, and his son Han is the director of Space Face, a documentary about his father!)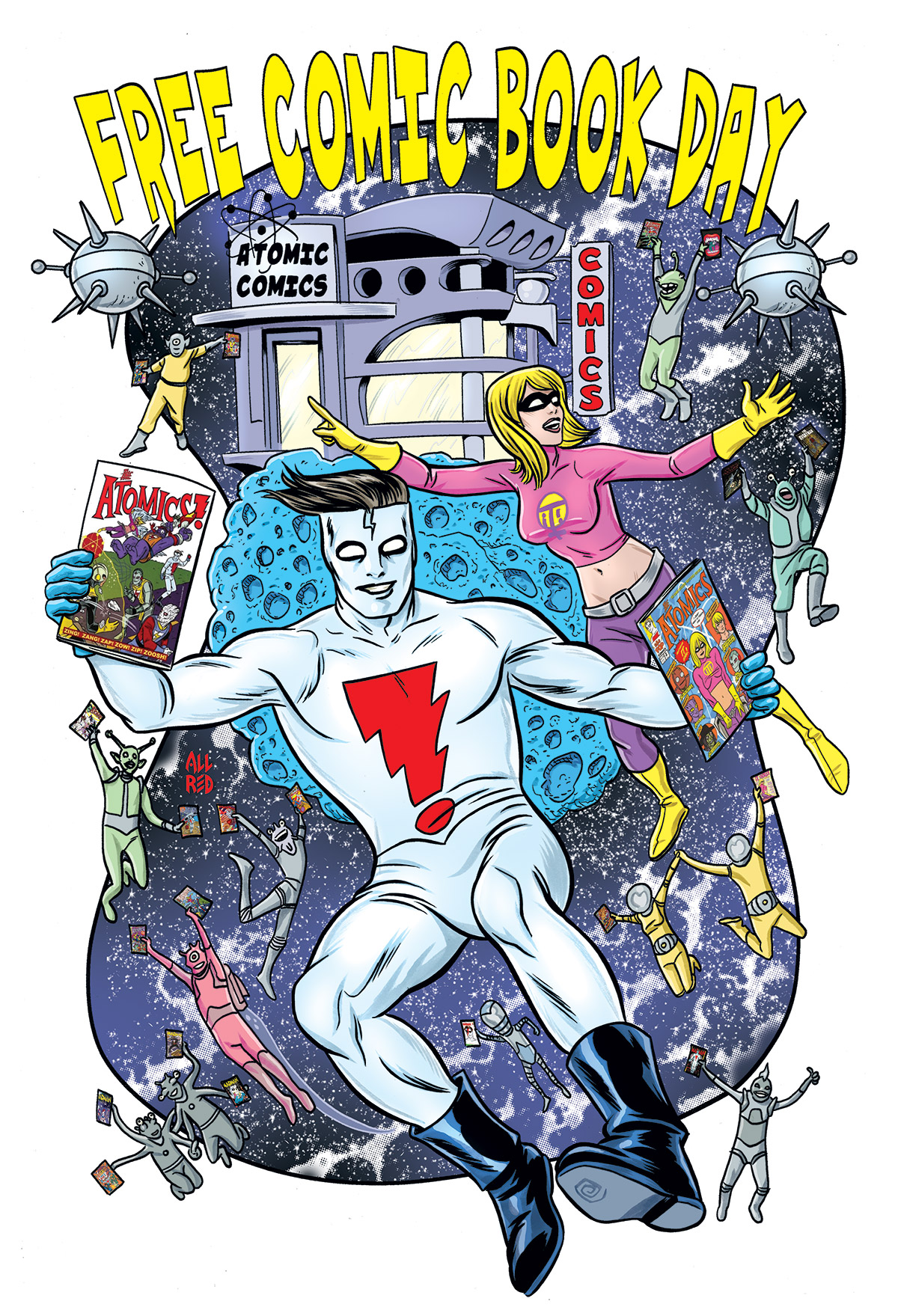 This weekly blog post is written and compiled by Craig Fischer. To send along recommendations, ideas, and comments, contact Craig at craig_fschr@yahoo.com [.]