Above is a detail from Flower Obsession (2017), an installation by Japanese Pop artist Yayoi Kusama (below) set up at the National Gallery of Victoria, Melbourne, Australia in 2018. Kusama's art has a lot in common with the streamlined designs and bright colors of comics, as you'll see when you take a virtual trip to Tokyo's Yayoi Kusama Museum (even as the physical museum re-opens). Check out the new exhibit of Kusama's monochromes, read about Kusama's career, and more!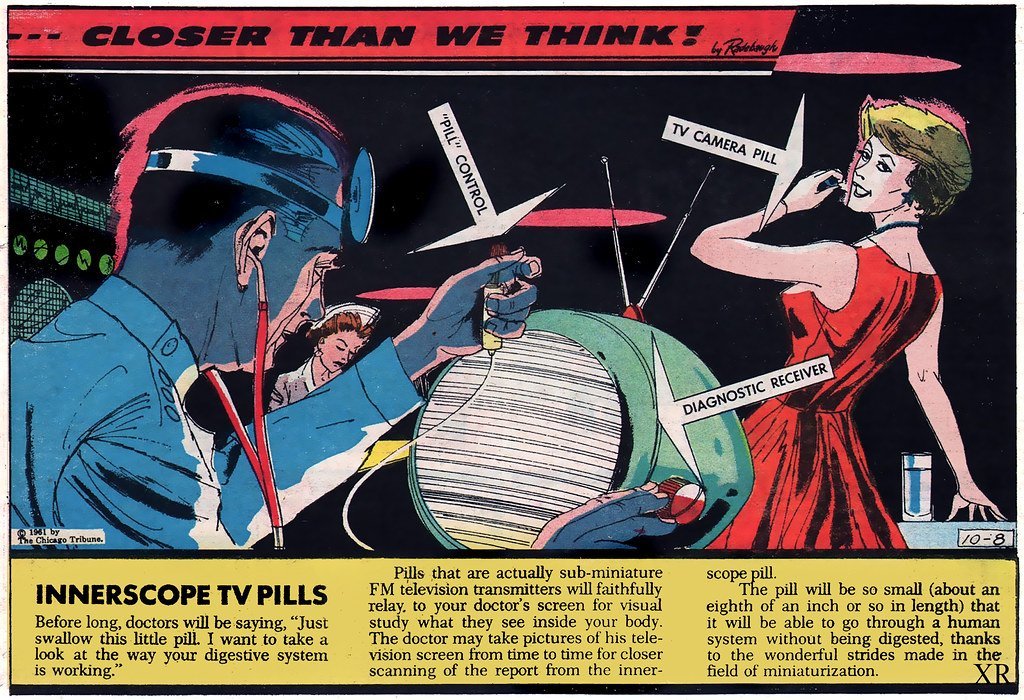 The Pulp Librarian Twitter account, dedicated to "the art, history, and fiction of old dreams," features a survey of Arthur Radebaugh's Sunday newspaper comic strip Closer Than We Think! (1958-1963). In Closer, Radebaugh depicted what our space-age future might look like, and Pulp Librarian grades Radebaugh on his predictions. For more information about Radebaugh, also a highly regarded airbrush and advertising artist, check out the following: on the Internet Movie Database, the trailer for a documentary about Closer; on the Billy Ireland Cartoon Library and Museum Blog, a post about Radebaugh's original art; and on Medium, a short essay on Radebaugh, with several examples of the Closer comic.
We don't talk much about music here at the Club (it's not a visual art!), but here's three fun links. Marc Weidenbaum's long running Disquiet site is a fantastic assemblage of ideas about ambient and experimental music. Every week, Weidenbaum presents a specific musical challenge to Disquiet followers ("Turn a recurring sound in your life into music," "Compose a piece of music structured like dialog") and posts the results. Speaking of ambient music: I enjoyed Eric Ducker's recent New York Times article about the lasting influence of Aphex Twin's short instrumental "Avril 14." And High Country folks (and everyone else!) should be listening to Boone Area Community Radio, "an independent, listener-supported online radio station" supported by 641rpm, Speakeasy Tattoo, the Cardinal Restaurant, and other local businesses. (I'm enjoying a killer funk show on BACR while writing this description…)
In the Washington Post, Michael Cavna examines three recently rediscovered comic strips by Peanuts creator Charles M. Schulz. These strips star a mild-mannered but occasionally tart-tongued stock room worker named Elmer Hagemeyer, and join four other "Hagemeyer strips" previously published in books about Schulz. The Charles Schulz Museum speculates that the Hagemeyer samples were drawn several years after Peanuts' launch, and were pitched by Schulz to his distributor, United Feature Syndicate, who declined to carry it. Still, seeing Schulz drawing adults—rather than the little roundheads that usually populate his comics—has led the Museum to mount an exhibit titled "Adults by Schulz," opening June 17.
The new book It's Life as I See It: Black Cartoonists in Chicago, 1940-1980, edited by Dan Nadel and with essays by Charles Johnson and Ronald Wimberly, collects the contributions made by mid-century artists in Black newspapers like The Chicago Defender and in other venues. (I'm especially excited to read the book's section on Richard "Grass" Green, one of the few cartoonists of color involved in 1960s superhero fandom.) Here is an interview with Nadel about It's Life as I See It, and here is a YouTube panel discussion moderated by Nadel with several of the artists who appear in the book, including Charles Johnson, Yaoundé Olu, and Turtel Onli.
Life is published in conjunction with Chicago Comics: 1960s to Now, a massive exhibition opening on June 19 at the Museum of Contemporary Art (MCA) Chicago; browse around the entire MCA website for images from current shows, at-home resources for families, and more.
Now that his new series has just premiered on Disney+, Loki is in the news. At Gizmodo, Sarah Durn dives into the real-life origin of the character, Loki's presence in two Norse myth manuscripts: "The Poetic Edda is an anonymous collection of Old Norse poems that are mainly pulled from an Icelandic medieval manuscript known as the Codex Regius (some of the poems date back to 800 CE). The Prose Edda is an Old Norse textbook for composing poetry that was written by a single author, Snorri Sturluson, a colorful Icelandic historian, scholar, and lawspeaker." At the end of the article, Durn writes briefly about Loki's introduction to Marvel Comics in 1962, but unfortunately gives all the credit to writers Stan Lee and Larry Lieber, despite the evidence that artist Jack Kirby was the co-plotter, co-writer, and dominant creative presence at 1960s Marvel. Below is a portfolio of bold Loki images drawn by Kirby. Note how Kirby explored different ways to portray the evil but charismatic trickster.
This weekly blog post is written and compiled by Craig Fischer. To send along recommendations, ideas, and comments, contact Craig at craig_fschr@yahoo.com [.]