The Portland Art Museum and the Northwest Film Center run an active blog about visual culture, featuring "Daily Art Moments," essays by curators on specific artworks, news about independent films, and more. One blog entry presents a video about a three-dimensional example of Roy Lichtenstein's Brushstrokes series (see above, 2005), a sculpture inspired by comic books and action painters like Jackson Pollock that stands outside the Portland Art Museum.
Heart of the City, available on the GoComics site, is a charming comic strip about a middle-school girl named Heart who lives in Philadelphia with her mother and a close-knit community of neighbors and friends. (The current strips chronicle Heart's disappointment at not getting the role she wanted in a school play.) Since April 2020, Heart has been written and drawn by Christina "Steenz" Stewart, a native of St. Louis who managed Star Clipper Books (a fantastic comic shop that unfortunately closed in 2015) and who currently teaches at Webster University. Visit Stewart's website for samples of her illustration work and more comics!
The titles of some of Daniel Pinkwater's 80+ books give a sense of his goofy sensibility: The Snarkout Boys and the Avocado of Death (1982), The Frankenbagel Monster (1986), Second-Grade Ape (1998), Once Upon a Blue Moose (2007), Vampires of Blinsh (2020). Pinkwater's website is likewise packed with fun, with whimsical stories broadcast on National Public Radio, over 450 episodes of the Pinkwater Podcast, and downloadable audiobooks of several of his novels. (Also check out Josh-Nathan Kazis' article "How Daniel Pinkwater Became My Own Personal Guru," which features a story about a car ride Pinkwater took with Harvey Kurtzman, Robert Crumb, and Terry Gilliam.) Never forget these words of Pinkwaterian wisdom: "It doesn't matter who you are, or what you've done, or think you can do. There's a confrontation with destiny awaiting you. Somewhere, there is a chili you cannot eat."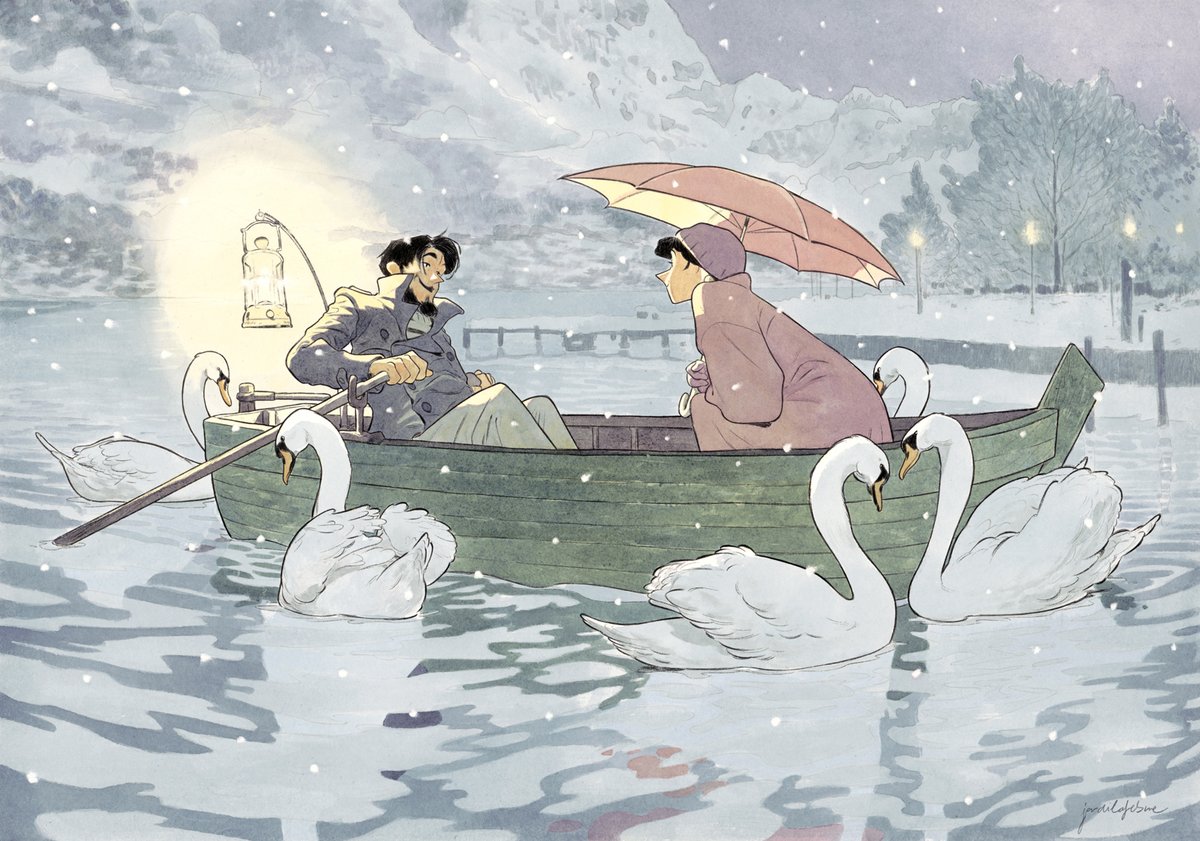 Friend-of-the-Club Ben Towle recently updated his blog with a new entry on how different cartoonists draw water. In 2008, he posted his first gallery of water art—featuring images by Roy Crane, Tony Millionaire, Craig Thompson, Drew Weing, and others. Ben's most recent water post, from February 2021, focuses on a number of French artists (including Jordi Lefebre, who graces us with swans and a rowboating couple, and Blutch) and  Japanese manga artists like Masashi Tanaka. And Ben's own art—wet or dry—deserves your attention: his next book, a collection of comics stories titled Four-Fisted Tales: Animals in Combat, is due in bookstores in August! Below is a cover reveal.
Three links to non-fiction comics about life during the Coronavirus (courtesy of Clark Burscough, whose Friday compilation of comics-related news at the Comics Journal is a must-visit): Satwik Gade on the pandemic catastrophe in India, Jenny Ziomek on teaching art students online, and Galadriel Watson on envisioning a Covid-less future to get us through the current hard times. The links on the artists' names will take you to more samples of their cartoons, and the links on subjects to their Cornoavirus comics.
In recent weeks, two American artists influenced by comics and popular culture passed away. On April 25, we lost William T. Wiley, a University of California art professor and multi-media creator known for playful representational works that provided an alternative to post-WWII abstract expressionism. (The loose school of post-abstraction that includes Wiley is often called Funk Art.) I came to know Wiley's originality through his collaborations with Robert Nelson on several witty, groundbreaking experimental movies, including The Great Blondino (1967, see above) and Deep Westurn (1974). On May 6, Karl Wirsum, one of the original members of the avant-garde Chicago art collective the Hairy Who, died at the age of 81. Like Wiley, Wirsum was a beloved arts educator—one obituary noted that "Wirsum became a beloved artist and professor of painting and drawing at the School of the Art Institute in Chicago, as evidenced by the outpouring of appreciation on social media from scores of former students and fans"—and his childhood interest in comics fueled his bold, colorful adult work, like the face below (Youdue, c. 1966).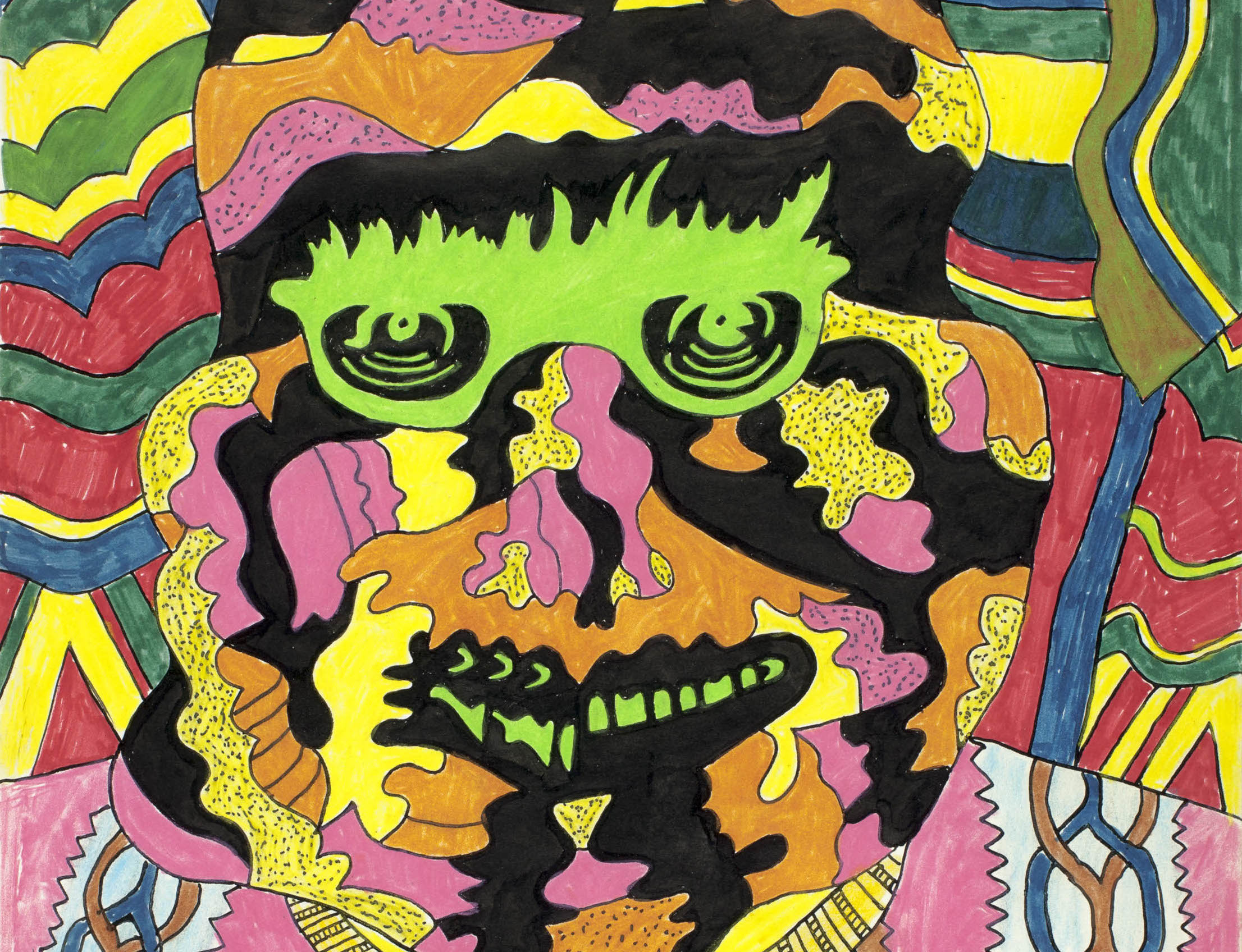 This weekly blog post is written and compiled by Craig Fischer. To send along recommendations, ideas, and comments, contact Craig at craig_fschr@yahoo.com [.]