Welcome back to the Playhouse Comics Club! Our first image this week (above) is by Gary Panter, and it's a tribute to the New York Public Library at 42nd and Fifth Avenue in NYC. Panter loves so much about this library—its beautiful fixtures, its amazing collection of books—but most important for him is knowing that "deep scholarship is going on there, the real thing, human computers desiring to know, souls burning with curiosity in a place that they can't exhaust, that there is a deep life of the pursuit of knowledge happening on and on in that hive."
To celebrate the animated films of Hayao Miyazaki (My Neighbor Totoro, Spirited Away) and other directors, the production company Studio Ghibli is building a theme park in Japan's Aichi Prefecture. It was announced last week that Ghibli Park will include a replica of Howl's Moving Castle—from the Miyazaki movie of the same name—though the park's real-life version won't move and will be smaller than the castle that appears on screen. (At five stories, though, the Ghibli Park Castle will be big enough for people to visit and tour.) Other planned attractions will be a Princess Mononoke village and a green area featuring Satsuke and Mei's rural home in Totoro previously built for Japan's 2005 World Expo. Read here for more information and a glimpse at design art for the theme park. Ghibli Park is set to open in 2022, with new attractions rolling out through 2024.
The Bayeux Tapestry is one of the most important historical objects in the world. Across its 230-feet horizonal span, the tapestry uses words and pictures to tell the story of the Norman Conquest of England and the Battle of Hastings. It's priceless both for its historical information and its colorful woven beauty. The Tapestry is also an early example of another medium that uses words and pictures: comics! As Scott McCloud argues in Understanding Comics: The Invisible Art, the Tapestry shows "the events of the conquest, in deliberate chronological order, unfold before our very eyes," in ways similar to a very long comic strip. I was reminded of this connection when playing around with the online Bayeux Tapestry Generator, which allows you to arrange your own 11-century-style comics to express your own jokes and stories. Check out the site and stage your own battles!
The newest episode of First Second's Sketch School features cartoonist Andy Hirsch drawing a geologist character from his recent book Science Comics: Rocks and Minerals. More art tutorials are available at the YouTube account of the Kings Island amusement park outside of Cincinnati, Ohio—since December, Kings Island has posted an artist named Noel instructing us how to draw Charles Schulz's Peanuts characters, including Schroeder, Lucy, Franklin, Pig-Pen, Woodstock, Linus, and Charlie Brown. (The Peanuts cast are part of the Kings Island experience.) And if you're dreaming of your next ride on a roller coaster, check out the entire list of King Island videos.
For 2021's Black History Month, DC Comics has posted on its website an article celebrating five of the company's most iconic Black creators: writer-cartoonist Kyle Baker, artist Denys Cowan, writer and Milestone Comics co-founder Dwayne McDuffie, penciller Jamal Igle, and artist and painter Brian Stelfreeze. (Also mentioned are Trevor von Eeden and Damion Scott—but it's unfortunate that the essay's author didn't identify a Black female creator who'd worked at DC.) Of these formidable talents, my favorite is probably Baker, whose hilarious graphic novel Why I Hate Saturn (1990) launched a non-superhero imprint at DC, and whose run on Plastic Man (2004-2006; see above) was a goofy blast. Baker has written and drawn many more projects outside of DC's orbit—including a wordless, brutal story about Nat Turner's slave revolt and a whimsical, semi-autobiographical comic about his family—and you should explore his work (which is not always appropriate for young readers).
Elsa Charretier is a cartoonist who combines projects for established publishers—November, her crime comic with writer Matt Fraction, is finishing up at Image Comics—with self-published art books funded through Kickstarter. Perhaps her highest-profile job has been her work on various Star Wars comic books, including Star Wars Adventures (2017-2019) and Star Wars: Forces of Destiny—Leia (2018). (In articles on the official Star Wars website, Charretier walks us through how to draw both Han Solo and Chewbacca.) Charretier's art, influenced by such elegant minimalists as Alex Toth, David Mazzucchelli, and Darwyn Cooke, distills a character down to their dynamic essence, as we can see in the black-and-white fan commissions she draws of such crime-fighters as Supergirl and Wonder Woman. Samples of these single-character ink drawings are below. Enjoy!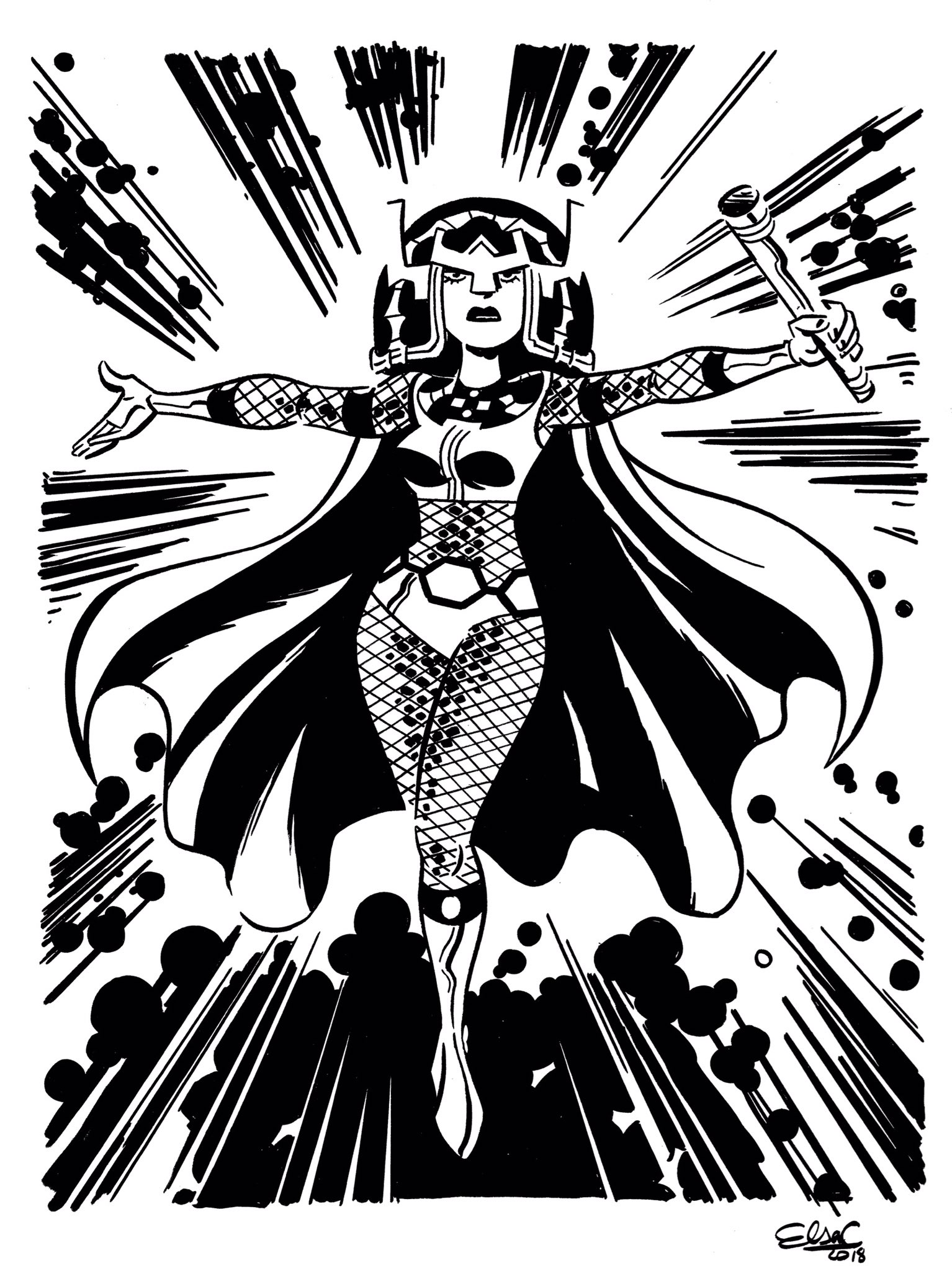 This weekly blog post is written and compiled by Craig Fischer. To send along recommendations, ideas, and comments, contact Craig at craig_fschr@yahoo.com [.]