Do you like the above picture? It's a sample of the art of Davis Cone, a photorealist painter who creates beautiful images of neighborhood movie theaters, especially those designed in the Art Deco style. Cone's paintings are so real that they're almost a substitute for going to the movies during this pandemic time.
Mr. D's 51-episode webcomic The Life of the Three Bears (2015) is strange and compelling. Its characters include a polar bear, a millionaire penguin, a black bear, and a panda, who all find themselves in situations more appropriate for humans ("Panda's training himself to stay fit with treadmill"). Sometimes these characters venture out together, as in Episode 47, where Black Bear and Panda go out for a midnight snack, and then "realize they had forgotten to bring money"—and the nearby ATM is broken! Mr. D's art style, simple and manga-cute, will appeal to young readers, while the poker-faced, surreal humor of the strip will charm adults. Begin here.
Though it hasn't been updated in a while, Jim Engel's Big Blog of Kids' Comics collects over 200 comic book stories for children, drawn by artists like Warren Kremer, George Carlson, and Morris Gollub and scanned directly from original publication copies.  Lots of funny-animals here, with all comics appropriate for youngsters—and there are links to other fun sites too, such as the Richie Rich Comics Fan Club, a treasure trove of tales about everyone's favorite boy billionaire. And Jim Engel's personal site collects examples of his illustration work, his comics, and even pages from his sketchbook (such as the above Hemingway example).
Like other generous cultural institutions, the Milwaukee Art Museum is sponsoring online showcases and events to help us through these pandemic times. There are three events scheduled for Saturday, February 6: a free online Story Time at 10:30am CST, a performance by Haitian musicians Jahmés Finlayson and Zonia Perry at 1pm CST, and the virtual premiere of an exhibit of Wisconsin's 2021 Scholastic Art Awards, featuring two hundred accomplished artworks by Wisconsin students in grades 7-12. (The painting above, Victoria Fernandez's We All Hold Hands [2020], is in the exhibition.) Coming up online in future weeks are more Haitian-themed concerts, with Lakou Mizik (Saturday, February 20, 1pm CST) and Jam Ak Jam (Saturday, February 27, 1pm CST). See the entire schedule of events here. Also read about the Museum's incredible architecture, which includes the Quadracci Pavilion, a building with a grand reception hall and giant wings that move and respond to wind speed and direction!
Since March 18, 2020, Irish cartoonist Hugh Madden has been spending his quarantine drawing a playfully irreverent comics adaptation of Robert Louis Stevenson's Treasure Island and posting the results on Twitter. (Madden's already completed more than two hundred pages!) In a rave review, Claire Napier calls Madden's Treasure "Heaven, essentially. Water you can hear, sunlight you can feel, every face a figurehead carved by a master. And the silhouettes of the trees! Elegance supreme. The art history of it escapes me (Nouveau? Beardsley?—No; Vintage travel posters?) but the beauty does not." Start here with the first episode (and be aware that like the original, this version of Treasure Island has fisticuffs, sea battles, and rum).
This one is for older kids and adults who like spooky stuff. A month ago, the U.K.'s Guardian newspaper profiled Tiziano Sclavi, the creator and author of the long-running Italian horror comic Dylan Dog (1986-present). Reporter Lorenzo Tondo summarizes Dog like this: "A 30-something former Scotland Yard officer and recovering alcoholic, Dog is a private detective who investigates unusual cases bordering on reality and the paranormal. He's impulsive, problematic and unsure about himself and the world. His sidekick and trusted best friend is Groucho Marx, inspired by the American comedian, and the two share a house full of monstrous gadgets and a bell that makes a frightening sound." Reporter Tondo explores why Dylan Dog is popular in some countries and not in others; sadly, the character remains unknown in America despite Dark Horse Comics' publication of translated story collections. (Ditto for English audiences, even though Dog's tales are set in London and there's a breakfast restaurant named after him at the address where he fictionally lives.) While we wait for more Dog stories in English, let's explore some covers from the Italian comics (and a final image from U.S. artist Mike Mignola too).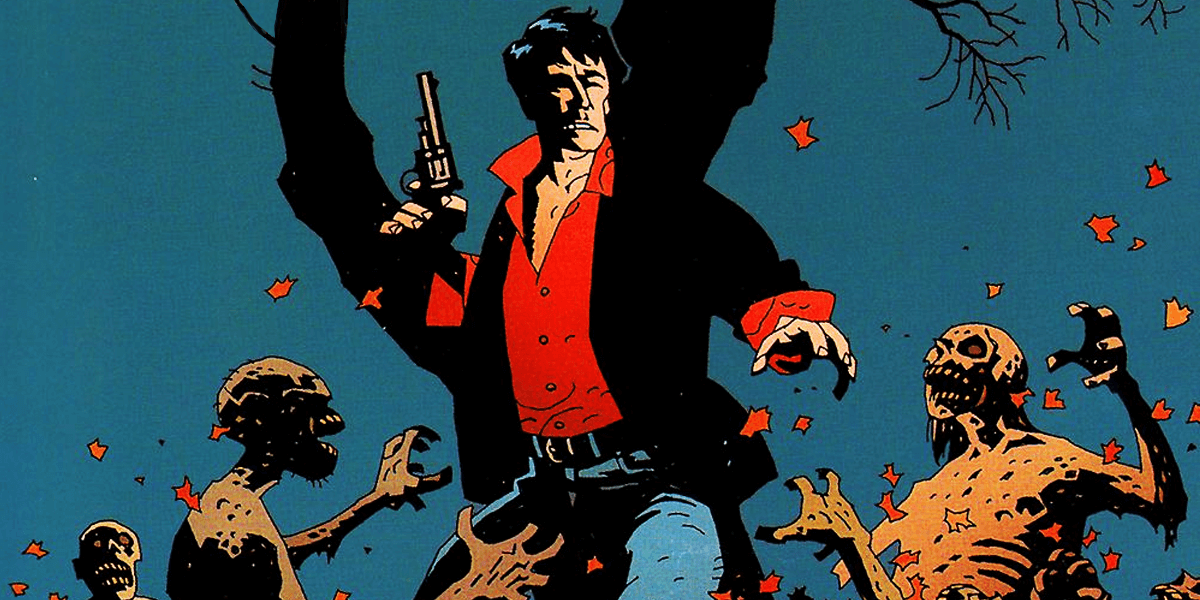 This weekly blog post is written and compiled by Craig Fischer. To send along recommendations, ideas, and comments, contact Craig at craig_fschr@yahoo.com [.]