This week's Club is being posted at 12:01am on Friday, January 1, 2021: HAPPY NEW YEAR! (Maybe this year you'll swim in a pool like the one in our header image created by photographer Jan Pypers.)
On culture news site 13th Dimension, pop painter Joe Jusko sings the praises of ace Marvel Comics cartoonist and fan-proclaimed "Michelangelo of Comics" John Buscema (1927-2002). As Jusko writes: "A master of the human form, equally adept at subdued, nuanced poses and powerful action, his became the 'house style' at Marvel Comics for years. His output was prodigious and covered every genre with equal mastery." Jusko was most influenced by Buscema's 1960s superhero comics, but for me, Buscema's 1970s work on Conan the Barbarian was just as impactful, especially when Buscema's pencils were lushly inked by Alfredo Alcala (as in the diving picture above). Here's the link to a Pinterest board featuring original Buscema art and tributes to him.
Over on NeoText, Gregory Paul Silber argues quite rightly that "the comic book industry as we know it was built primarily by Jewish Americans," a fact which provokes him to wonder why there's been many more comics about Christmas than about Hanukkah. While answering this question, Silber ranges across a broad set of related topics—the similarities between Superman and the myth of the Golem, the implicit Jewishness of Spider-Man—before listing some of his favorite Hanukkah-themed comic book stories. (The image above, from the fantastic 2018 animated film Spider-Man: Into the Spider-Verse, shows Peter B. Parker "'breaking the glass' at his wedding to Mary Jane—a staple of traditional Jewish weddings.")
Currently the website for the Minneapolis Institute of Art (MIA) features the virtual exhibition Foot in the Door 5, a display of work by Minnesotan artists of all ages. According to the MIA website: "The exhibition occurs once every 10 years, and by now, generations of artists have participated in it. The sole curatorial criteria? All submissions must measure at or under 12 inches in height, width, and depth—literally inviting artists to place 'a foot' in the museum's galleries." See how Minnesotan creators express themselves in various media, including ceramics, paintings, photography, drawings, prints, sculpture, textiles, and mixed media (such as Jacqueline L. Swanson's Alone in the Past [2020], left).
Jan Pypers is a 38-year-old Belgian photographer who uses a combination of real locales, miniature models, forced perspective, and post-production techniques to create scenes of uncanny beauty and subject matter. His images favor a dominant single color, and often feature a single person—or sometimes two humans—isolated in long shot in a strange landscape. (We often see Pypers' figures framed through a window or by the angles of a building.) Browse Pypers' Instagram and Tumblr accounts for striking examples of his work, and here's a brief interview with Pypers about his process.
Ben Katchor has been actively cartooning for over forty years, his urban sensibility earning him both Guggenheim and MacArthur Fellowships. The brief biography on his website lists many of his major projects and achievements: "Ben Katchor's picture-stories include Julius Knipl, Real-Estate Photographer, The Jew of New York, The Cardboard Valise, Hotel & Farm and Shoehorn Technique. He has collaborated with Mark Mulcahy on a number of music-theater productions. He lives in New York City and teaches at Parsons School of Design, The New School." For Parsons, Katchor organizes the New York Comics and Picture-Story Symposium, whose schedule of speakers and events for Spring 2021 is now available.
American comics would be much less eccentric and witty without Katchor. Below are examples of his wry, unique comic strips.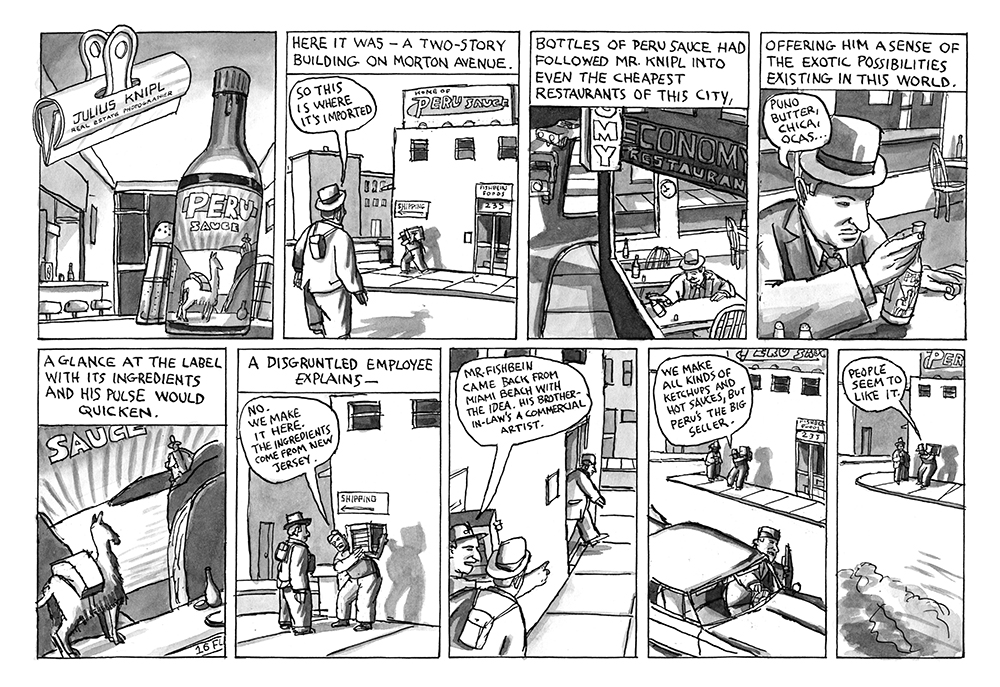 This weekly blog post is written and compiled by Craig Fischer. To send along recommendations, ideas, and comments, contact Craig at craig_fschr@yahoo.com [.]