Welcome back to the Playhouse Comics Club! We missed you! (The above image is courtesy of artist Peter Van den Ende, from his new book The Wanderer, about the long, strange journey of a little paper boat.)
Happy 100th birthday to Rupert Bear, one of the UK's most beloved Children's book characters. Created by Mary Tourtel, Rupert first appeared in the Daily Express newspaper on November 3, 1920, and spinoffs of the newspaper strip have for decades included an annual comic book and hardcover collections. Rupert's world is Nutwood, a fantasy land of anthropomorphic animals not unlike the Hundred Acre Wood (though Rupert predates Winnie-the-Pooh by six years) and the setting for stories with the tone of Grimm fairy tales. The Daily Express has published several articles celebrating Rupert's birthday, including a chronicle of Rupert's origin; coverage of a Rupert play; portraits of Rupert artists Alfred Bestall and Stuart Trotter; and pieces about Rupert superfans here and here. (And thanks to Mike Rhode for the links!)
"I have never seen anything like it and I am so happy to have stumbled upon it": Ryan Estrada, a cartoonist and writer for such comic-centric publishers and outlets as Scholastic Books, King Features, and The Nib, wrote on Twitter last week about walking in a forest and discovering a giant comic strip hanging between trees! Read Estrada's Twitter thread about this unique comic strip, and visit the Instagram account of Jeonji, the artist who created this on-location comic, for lots of pictures of art and cats.
Over at the cultural site NeoText, pop maven Chloe Maveal surveys the life and art of Alex Toth, with special attention paid to Toth's passionate belief that simplicity in cartooning is the top priority. (One of his most important quotes: "Emphasize what is important in a scene. Save drawing!") Other Internet stops that provide a deep dive into Toth's minimalist aesthetic include The Official Alex Toth website, Micah Champion's Pinterest collection of Toth images, and the TothLove tumblr.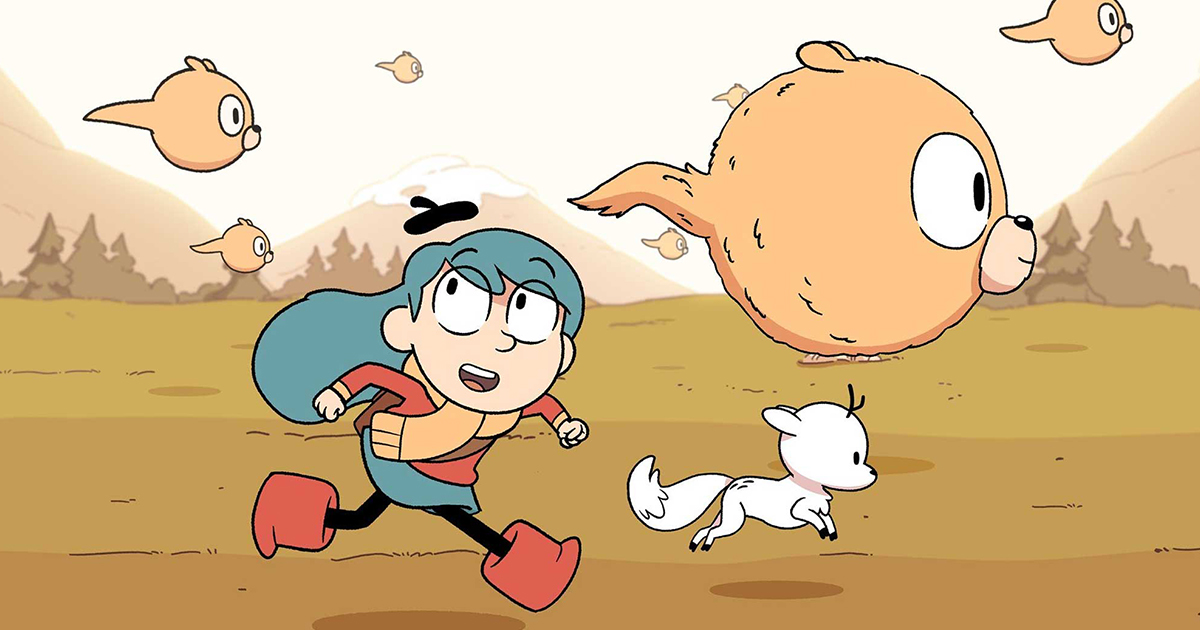 Due to the Coronovirus, yet another world-class comicon—England's Thought Bubble, scheduled for November 14 and 15—is online this year. This means, however, that you can visit Thought Bubble's "Digital Comic Con" and check out their programming: I would recommend a panel on the Netflix show Hilda featuring creator Luke Pearson (whose Hilda art is pictured above) and television producer Bryan Korn, scheduled to drop on the Thought Balloon YouTube channel at 7am on Saturday, November 14. And perfect for youngsters is the convention's "Kids' Zone," featuring all-ages-appropriate downloads of coloring pages, drawing games, and an activity book about monsters!
The Daily Cartoonist investigates an interesting commission MAD cartoonist Sam Viviano received in early 2020. Viviano writes that he was contacted by Kevin Wade, "the executive producer of the CBS series Blue Bloods. He was disappointed (although he used a different word) that his long-running show had never been parodied in MAD Magazine. So he decided to commission one himself, to give as a present to his cast and crew when the tenth season wrapped in April, and he wanted real MAD veterans to produce it." Viviano and writers Desmond Devlin and John Ficarra took on the challenge, and the parody—titled Blue Duds—has appeared as a series of posts on Viviano's Facebook page: the cover, the opening spread, pages 3 and 4, and the final two pages.
This weekly blog post is written and compiled by Craig Fischer. To send along recommendations, ideas, and comments, contact Craig at craig_fschr@yahoo.com [.]