Ha-Ha-HA! Welcome to this week's Playhouse Comics Club! (The above portrait of the Joker is by Bob Powell and Norman Saunders, as part of a 1966 Batman trading card set produced by the Topps Company.)
Found on My Modern Met: A story about Dave Sherill, a small business owner (Dave runs Arrowhead Vintage and Handmade Goods in Canton, Ohio) and a painter who adds Star Wars characters and science-fiction and horror creatures to forgotten thrift-store canvases. The result is a subversive take on those pastoral paintings you find in most hotels—all of which are enlivened by a Wookie or a Frankenstein. And My Modern Met also features a profile of another Dave, playful artist Dave Pollot, who adds his own anachronistic touches to thrift-store art (as in System Failure IV: Fair Warning, above). Here's more on Pollot, from his site.
Marbles Children Museum in Raleigh has reopened with pandemic safety protocols in place, but they've also posted over 125 craft videos on YouTube for kids unable to visit in person right now. If your child is bored, why not "Build a Rain Gauge with Jeff," "Dance Dance Paint with Shenette," or try out one of the "LEGO Challenges" with Scott? In addition to these videos, the Marbles website also includes a section titled "Ideas and Activities," with directions for projects, games, and resources "for children of all ages": play "Pet Spa" with your early learner and make a lava lamp with your science-curious kid. Plus, there's also a full page of Covid-19 parenting resources.
Visit the site of illustrator and cartoonist Jillian Tamaki to see samples of her art, a list of her published graphic novels and children's books, and short online comics to read. Not all of these comics are appropriate for kids, but I can recommend "Domestic Rites" (a diary about keeping creativity alive during Covid), "Lane's Eyes" (about someone with a "tiny superpower") and "Domestic Men of Mystery" (about fathers from Tamaki's childhood) for readers of all ages. Tamaki's newest book is Our Little Kitchen, a kids' book inspired by her experiences as a volunteer cook at a small charity kitchen in Brooklyn. Click here for an interview with Tamaki about Kitchen hosted by the great Washington D.C. bookstore Politics and Prose.
The American Sign Museum in Cincinnati, Ohio charts 20th-century history through the wood and metal shingles, twisty neon signs, and giant plastic mascots that used to decorate America's restaurants, car dealerships, and roadside attractions. Watch this streaming showcase of some of the Museum's most jaw-dropping exhibits, check out photo galleries from events at the Museum, and drop in on the "Learn" section of the Museum's website, where you'll find various at home activities. Also fascinating is the Museum's Save Old Signs site, a clearinghouse for "information and news about restoring and preserving signs across North America."
Editorial cartoonist Tom Toles retired from The Washington Post on November 1. This news was particularly meaningful to me, because both Toles and I grew up in Buffalo, New York, and I read Toles' cartoons in two Buffalo newspapers (The Courier-Express and The Buffalo News) before he decamped to the Post eighteen years ago. (He filled a vacancy left by the legendary Herblock.) I've been a Toles fan for a long time, and was overjoyed when he won the 1990 Pulitzer Prize for editorial cartooning.
NPR's Michel Martin has a strong exit interview with Toles—they talk about Charlie Hebdo, racial caricature, and the future of newspaper cartooning. Below is a sample of Toles' art, some from his art as a college student for The Spectrum, the newspaper of the University of Buffalo. Also included is "First Amendment," one of the cartoons praised by the Pulitzer committee.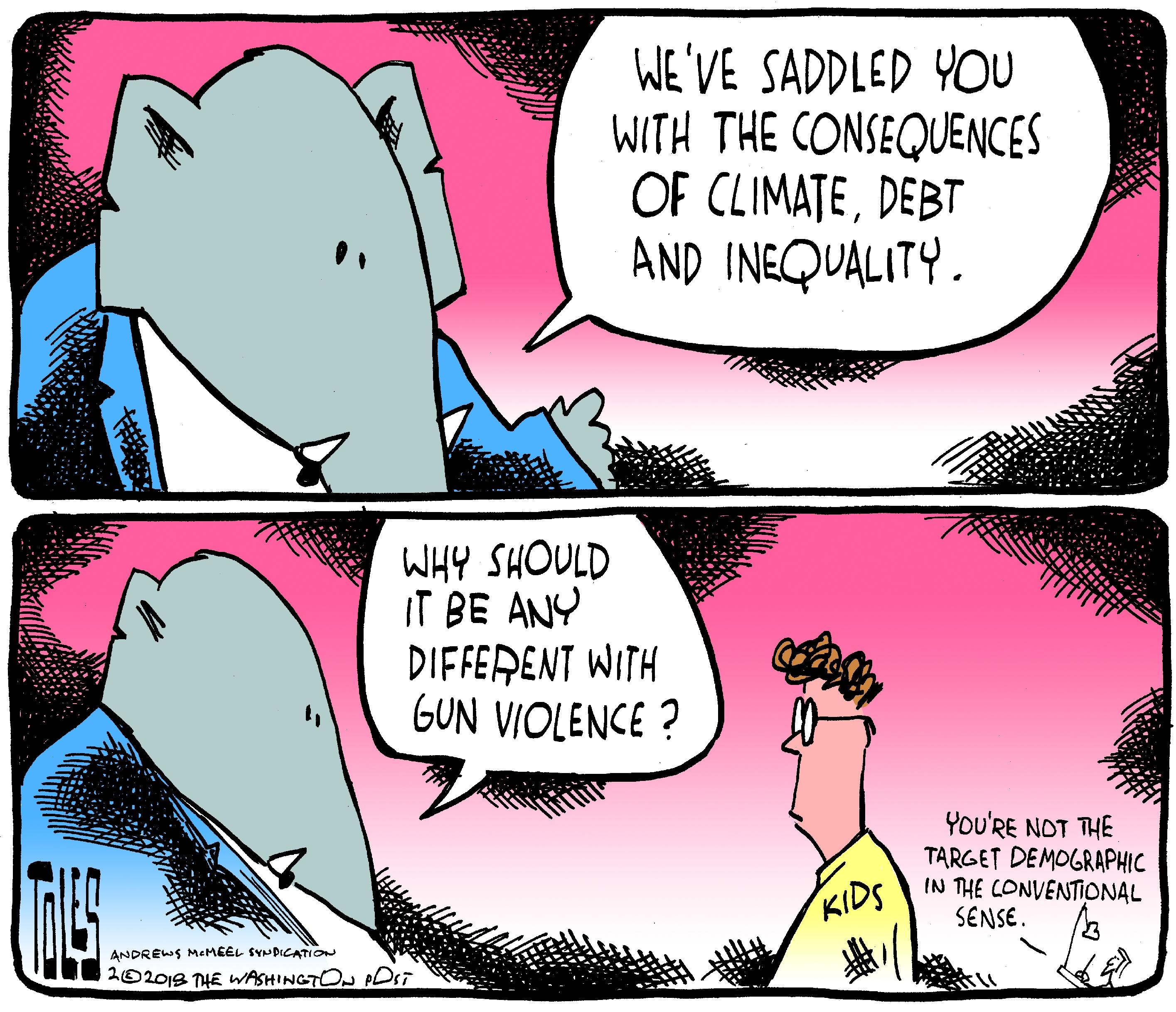 This weekly blog post is written and compiled by Craig Fischer. To send along recommendations, ideas, and comments, contact Craig at craig_fschr@yahoo.com [.]